Vampires have been a popular topic in literature and pop culture for centuries, but the Twilight series by Stephanie Meyer brought a fresh take on these mythical creatures. The series has gained a massive following, and the portrayal of vampires in it has been both praised and criticized. In this blog, we will explore the role of vampires in Twilight and break down the mythology behind it.
Firstly, let's take a look at the characteristics of vampires in Twilight. Unlike the traditional vampire mythology where they are depicted as undead beings who sleep in coffins, can't stand sunlight, and must feed on human blood, the vampires in Twilight are portrayed as a separate species with some human-like characteristics. They do not sleep in coffins or turn into bats. They are immortal, fast, strong, and have enhanced senses. They can survive on animal blood, but human blood is more potent and tempting to them. They also have a unique physical appearance, such as pale skin, golden eyes, and sharp teeth.
The main vampire character in the series is Edward Cullen, who falls in love with a human girl named Bella Swan. The series explores their relationship, which faces various challenges due to their different natures. One of the central themes of Twilight is the struggle between the vampires' desire for human blood and their attempt to control it. Meyer uses the concept of "vegetarian vampires" to create a moral dilemma for her characters. The Cullen family chooses to survive on animal blood to avoid harming humans, while other vampire clans do not follow this code of conduct and feed on humans.
Another interesting aspect of the Twilight vampire mythology is their powers. Each vampire has a unique ability that sets them apart from the others. For example, Edward can read minds, Alice can see the future, and Jasper can manipulate emotions. These abilities add an extra layer of complexity to the characters and their relationships.
The portrayal of vampires in Twilight has been both praised and criticized. On the one hand, the series has been credited with introducing a new generation to vampire mythology and creating a new sub-genre of vampire romance. On the other hand, some critics argue that the series romanticizes dangerous and predatory behavior, and the portrayal of the male vampire as a protector can reinforce harmful gender stereotypes.
The role of vampires in Twilight is a significant departure from traditional vampire mythology. Meyer's interpretation of vampires as a separate species with unique characteristics, abilities, and moral codes has created a complex and engaging fictional world. Whether you love it or hate it, there is no denying that the Twilight series has had a significant impact on pop culture and vampire lore.
Summer is just around the corner, and what better way to welcome the season than with some stylish T-shirts inspired by your favorite TV series? From classic sitcoms to popular dramas, these T-shirts are perfect for any fan looking to show off their love for their favorite shows.
1. Twilight Classic T-shirt
The Twilight Classic T-shirt is a must-have item for any fans of the popular book and movie series. This T-shirt features the iconic poster image of Bella Swan and Edward Cullen, the two main characters of the series.
The design of the Twilight Classic T-shirt perfectly captures the essence of the series, which is known for its romantic and mysterious themes. The image of Bella and Edward together is a powerful symbol of their love and the challenges they face as they navigate their relationship in a world filled with supernatural creatures.
This T-shirt is comfy and long-lasting because it is made of premium cotton. Its timeless style and shape make it a flexible piece that may be paired with jeans, shorts, or even a skirt for a more dressy appearance. This T-shirt is likely to become a staple in your wardrobe, whether you're a die-hard fan of the Twilight series or you just love the gorgeous imagery on it.
The Official Twilight Store offers a variety of high-quality goods for fans of the series in addition to the Twilight Classic T-shirt. There is something for everyone, from jewelry and accessories to home furnishings and collectibles. Show your support for this enduring series by purchasing now!: https://twilightmerch.com/ 
2. WandaVision T-Shirts – Halloween Witch Classic T-Shirt
For avid followers of the Marvel TV series, the Halloween Witch Classic design WandaVision T-Shirts are a must-have item. The striking sketch image of Wanda in black and red hues creates an air of enigma and fascination that adds to its classic appeal. Not only do these T-Shirts make a stylish addition to any fan's wardrobe, but they also offer a comfortable way to express their admiration for the show.
To grab a hold of these fantastic T-Shirts, simply visit the WandaVision Merch website, where an extensive array of WandaVision-inspired merchandise, including hats, hoodies, and T-Shirts, is available. With such a wide selection, there's something to suit every fan's preferences. Don't wait any longer, head to the WandaVision Merch website now and start your shopping spree!: https://wandavision.store/ 
3. The Red Circle T-Shirt
The Red Circle T-Shirt has recently gained popularity and is now a highly sought-after article of clothing. The shirt boasts a striking design, with a vivid red circle enclosing a white center image, making it a versatile and eye-catching piece that can be worn for various occasions. Its high-quality materials ensure both comfort and durability, making it a wise investment.
Fans of the widely acclaimed Riverdale television series will surely appreciate the Red Circle T-Shirt, as it pays homage to the show's gang of the same name. Wearing the shirt is a great way to express one's admiration for the series while simultaneously being fashion-forward.
For those who are interested in owning the Red Circle T-Shirt, the Riverdale Merchandise Store is the perfect place to look. They offer a broad range of Riverdale-themed merchandise, including clothing, accessories, and more. Regardless of whether you are an ardent follower or simply seeking a trendy and enjoyable article of clothing, the Riverdale Merchandise Store has everything you need to exhibit your love for the show: https://riverdalemerchandise.com/ 
4. Better Call Saul Classic T-Shirt
For any avid watcher of the popular TV series, the Better Call Saul Classic T-Shirt is an essential item to own. This shirt, designed with both style and comfort in mind, showcases a vivid graphic of the show's main character, Saul Goodman, in his full legal glory. The image is impeccably detailed and accurately captures the character's essence and the show's overall tone.
In addition to its stunning appearance, the Better Call Saul Classic T-Shirt is also made with top-quality materials that guarantee both long-lasting comfort and durability. This makes it an ideal choice for everyday wear or as a standout statement piece at your next social gathering.
To add this timeless tee to your wardrobe, The Official Better Call Saul Merch website is the go-to destination. With an extensive collection of show-inspired merchandise, ranging from apparel and accessories to collectibles, the website caters to both dedicated fans and gift shoppers alike. For anyone looking to demonstrate their affection for this iconic series, The Official Better Call Saul Merch has everything necessary to do so: https://bettercallsaulmerch.com/ 
5. Rick and Morty Middle Finger T-shirt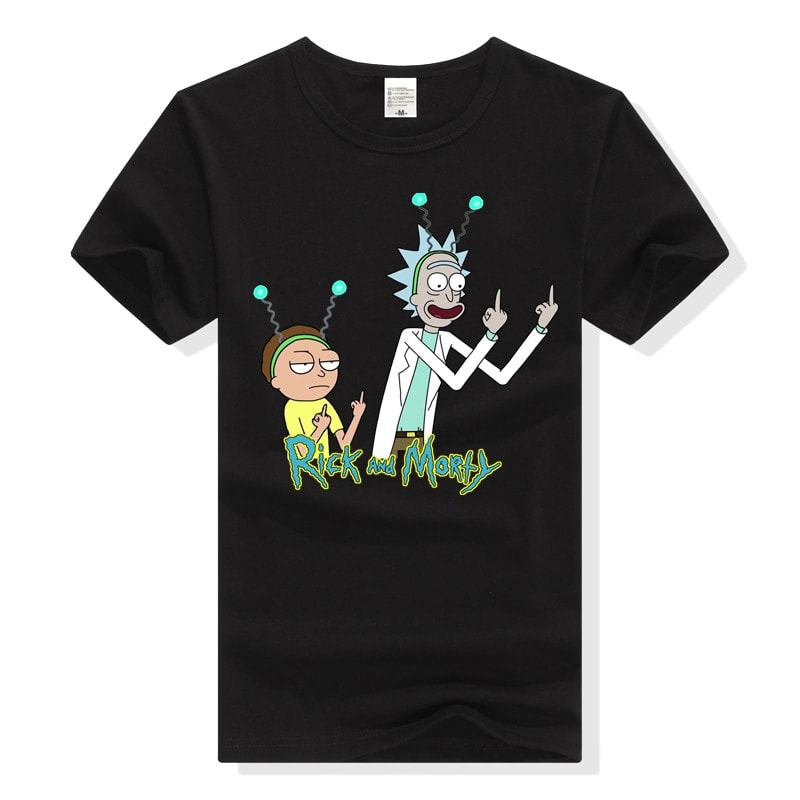 The "Rick and Morty Middle Finger T-shirt" is the perfect attire for any fan of the animated series. This bold and edgy design features the iconic characters of Rick and Morty, with Rick and Morty flipping the middle finger to anyone who dares to mess with him. The shirt is fashioned from top-notch materials that are long-lasting and comfortable, making it suitable for daily use.
If you're in search of additional "Rick and Morty" merchandise, the "Rick And Morty Merchandise Store" is your one-stop shop. Their online store presents a broad assortment of clothing, accessories, and collectibles influenced by the series. You can find anything from t-shirts and hoodies to action figures and posters that cater to every fan's preferences.
Furthermore, the "Rick And Morty Merchandise Store" not only has a comprehensive selection of products, but they also provide prompt and dependable delivery, secure payment options, and exceptional customer service. So, don't hesitate any longer and visit their website to upgrade your wardrobe with some "Rick and Morty" flair today!: https://rickandmortystuff.store/ 
Overall, it's clear that TV series and movies have a significant impact on our consumer culture. From home decor to clothes, companies are taking inspiration from these entertainment franchises to create unique and innovative products that speak to our love of these beloved stories and characters.